Removal of Hexavalent Chromium using a PVDF-based Polymer Inclusion Membrane with a phosphonium-based ionic liquid
Keywords:
Water pollution, Ionic Liquid, Adsorption, Polymer Inclusion Membrane, Chromium
Abstract
Hexavalent chromium (Cr(VI)) is widely used in industrial processes and products while it possess a severe health effect to living being and environmental hazard. Removing Cr(VI) from industrial wastewater and other contaminated sources is important for human health and the ecosystem. Various treatment technologies have been developed to remove it, but further research is needed to improve their effectiveness. This report discusses the adsorption of Cr(IV) using a phosphonium-based ionic liquid, trioctyldodecylphosphonium chloride, in a polymer inclusion membrane (PIM) matrix. The PIM's chemical structure was also examined by FTIR spectroscopy, and a cross-sectional SEM image was taken. The adsorption efficiency of PIM increase as the IL content increase, and experiencing a significant jump in over 30% of IL content. The maximum adsorption capacity corresponds to PIM40 and PIM50, which shown a 90% adsorption in 24 hours. However, PIM50 was difficult to regenerate and reuse due to membrane stability. Cr(VI) adsorption by PIM40 followed a pseudo-second-order kinetic model and Langmuir isotherm model with adsorption capacity of 74.1 mg g-1. Following the isotherm model, the adsorption of Cr(VI) probably through an anionic exchange between IL in the PIM and Cr(VI) complex. Cr(VI) desorption from PIM40 was carried out by using a 0.5 mol L-1 NaNO3.The PIM40 was able to be reused for five times without a significant change in the performance. This study has shown that PIM can effectively remove heavy metals from water and selectively remove specific contaminants. PIM are also relatively easy to regenerate or replace, making them a potentially cost-effective method for removing heavy metals from water.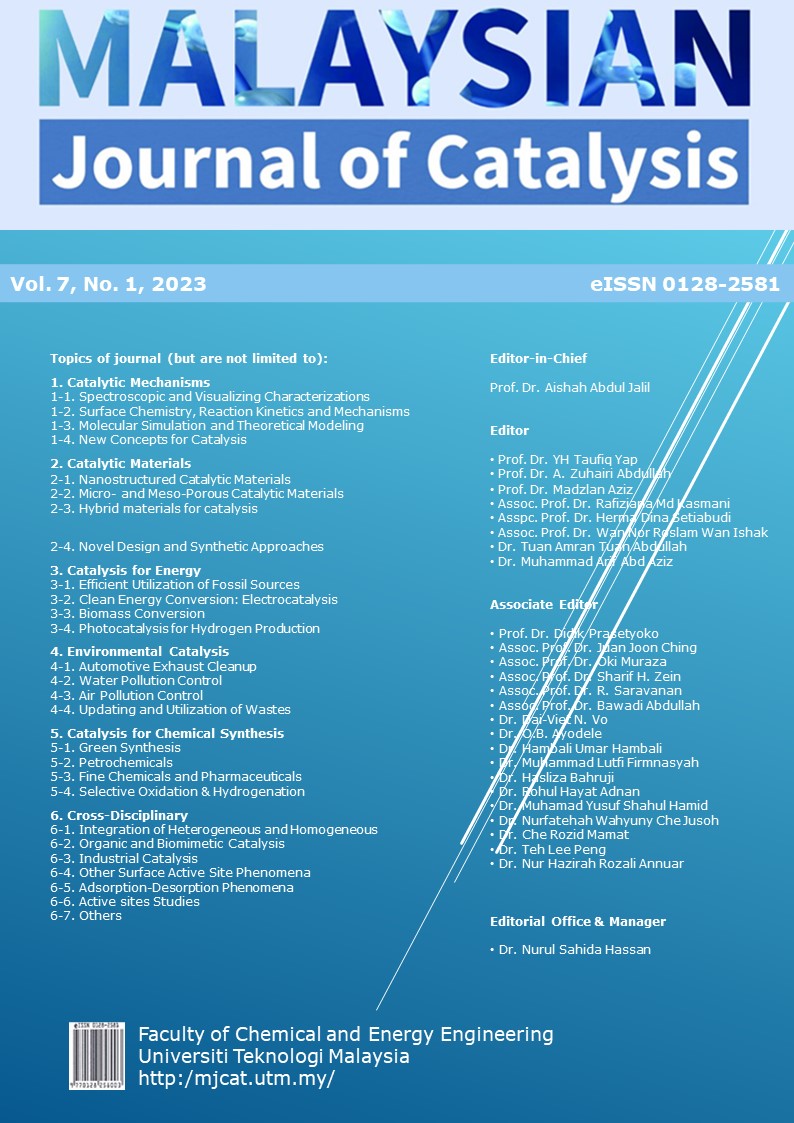 Downloads
How to Cite
Firmansyah, M. L., Salsabila, Z., Andika, N. T. S., Prasetyo, V. G., Ardian, Y. S., & Yahya, M. H. (2023). Removal of Hexavalent Chromium using a PVDF-based Polymer Inclusion Membrane with a phosphonium-based ionic liquid. Malaysian Journal of Catalysis, 7(1), 13–19. https://doi.org/10.11113/mjcat.v7n1.169
License
This work is licensed under a Creative Commons Attribution-NonCommercial 4.0 International License.
The Malaysian Journal of Catalysis publishes open access articles under the terms of the Creative Commons Attribution (CC BY) License which permits use, distribution and reproduction in any medium, provided the original work is properly cited. 
The Department of Chemistry, Faculty of Science, UTM retains the Copyright on any research article published by Malaysian Journal of Catalysis.
Authors grant Malaysian Journal of Catalysis a license to publish the article and identify itself as the original publisher.