Comparative Study of Biochars from the Retort Co-Carbonization of Corn Cob and Polyethylene Wastes
Abstract
Biochar is a pyrogenic, carbon-rich by-product of the products of biomass valorization. Its applications include source of heat, carbon sequestration, soil improvement, adsorbent, chelating agent and niche for micro-organism growth. The study focused on the retort carbonization of corn cob and co-carbonization of corn cob and polyethylene waste for comparative studies using a top-lit updraft conversion reactor with retort heating. The properties of the biochars were analyzed using Scanning Electron Microscopy - Energy Dispersive X-ray (SEM-EDX) and Branueur-Emmet-Teller (BET).  Results revealed the ordinary biochar had a homogeneous surface with repeating patterns forming a honeycomb-like structure with a 62% carbon composition while the hybrid biochar had a heterogeneous surface with a rough pattern and ridges with an 80% carbon composition. The heterogeneity and increase in carbon composition observed in the hybrid biochar were attributed to the presence of the polyethylene waste. Biochars with high carbon contents can find their applications in areas of carbon sequestrations. The biochar and hybrid biochar were found to be porous with specific surface areas of 392.5 m2/g and 889.9 m2/g respectively. The high specific surface area of the hybrid biochar produced highlights its potential as an adsorbent.  Biochar with high levels of porosity is also useful in soil enhancement. The co-carbonization of corncob and polyethylene waste has been established to be a means of conversion of both agricultural and plastic wastes into biochar with various potential applications.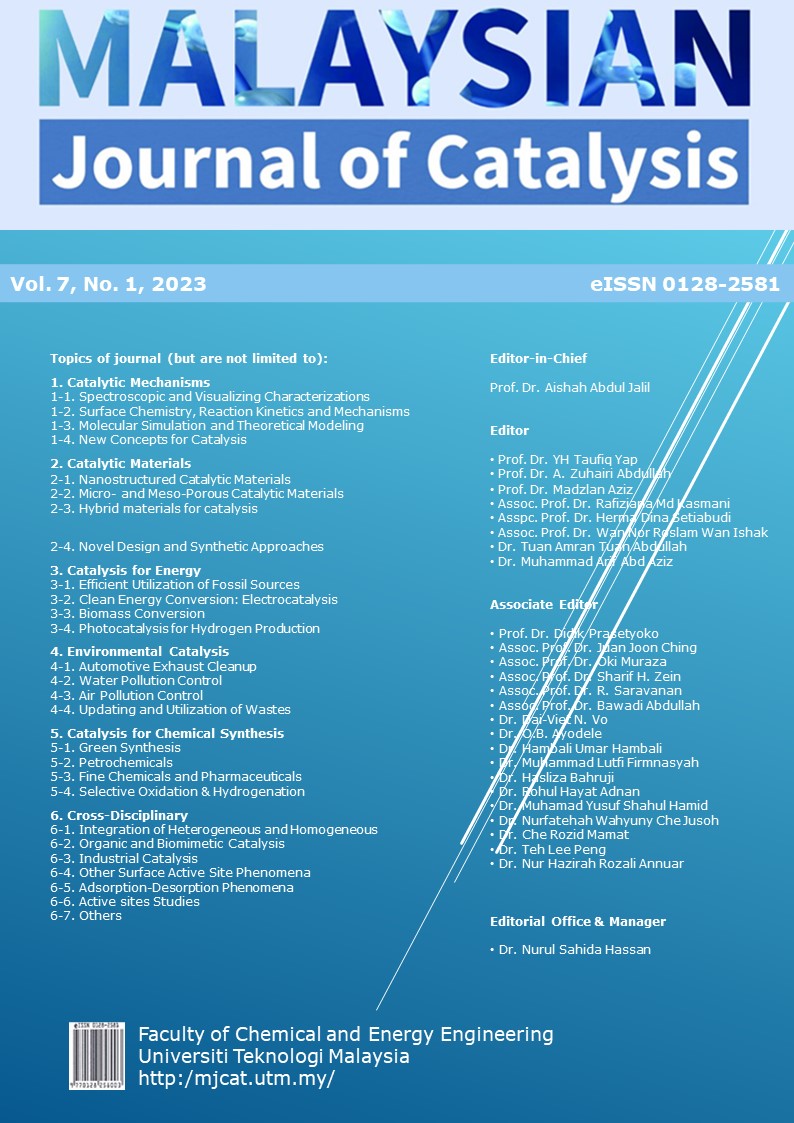 Downloads
How to Cite
Amoloye, M., Abdulkareem, S., & Adeniyi, A. (2023). Comparative Study of Biochars from the Retort Co-Carbonization of Corn Cob and Polyethylene Wastes. Malaysian Journal of Catalysis, 7(1), 6–12. https://doi.org/10.11113/mjcat.v7n1.168
License
This work is licensed under a Creative Commons Attribution-NonCommercial 4.0 International License.
The Malaysian Journal of Catalysis publishes open access articles under the terms of the Creative Commons Attribution (CC BY) License which permits use, distribution and reproduction in any medium, provided the original work is properly cited. 
The Department of Chemistry, Faculty of Science, UTM retains the Copyright on any research article published by Malaysian Journal of Catalysis.
Authors grant Malaysian Journal of Catalysis a license to publish the article and identify itself as the original publisher.