Production of Biokerosene Hydrocarbons using Coconut Oil with CoO-NiO/Kaolin Catalyst via Solvent-free and Inert Atmosphere Catalytic Deoxygenation
Abstract
Concerns on the depletion of fossil fuel and emissions of harmful gases lead to the search for alternative aviation fuel. The present study demonstrates the production of biokerosene hydrocarbons from coconut oil via solvent-free catalytic deoxygenation under inert Nitrogen (N2) atmosphere. The deoxygenated product is examined through Gas Chromatography-Mass Spectrometry (GC-MS) analysis to determine its chemical composition and hydrocarbons distribution. CoO-NiO/Kaolin catalyst was used along with several other catalysts to study the reactivity of different catalysts in catalytic deoxygenation. Coconut oil is composed of middle-chain saturated fatty acids (capric acid, lauric acid, and myristic acid) which are favorable for the conversion into biokerosene hydrocarbons due to their carbon chain length.  In terms of the types of catalyst, CoO-NiO/Kaolin proves to be the best catalyst with optimum selectivity of biokerosene hydrocarbons at 83.4%. A parametric study was executed on coconut oil using CoO-NiO/Kaolin, and the result indicated that the optimum reaction conditions are 330 oC, 2 hours of reaction time, and 5 wt.% of catalyst. The biokerosene hydrocarbons produced have the likelihood to be the drop-in substitutes for aviation fuel.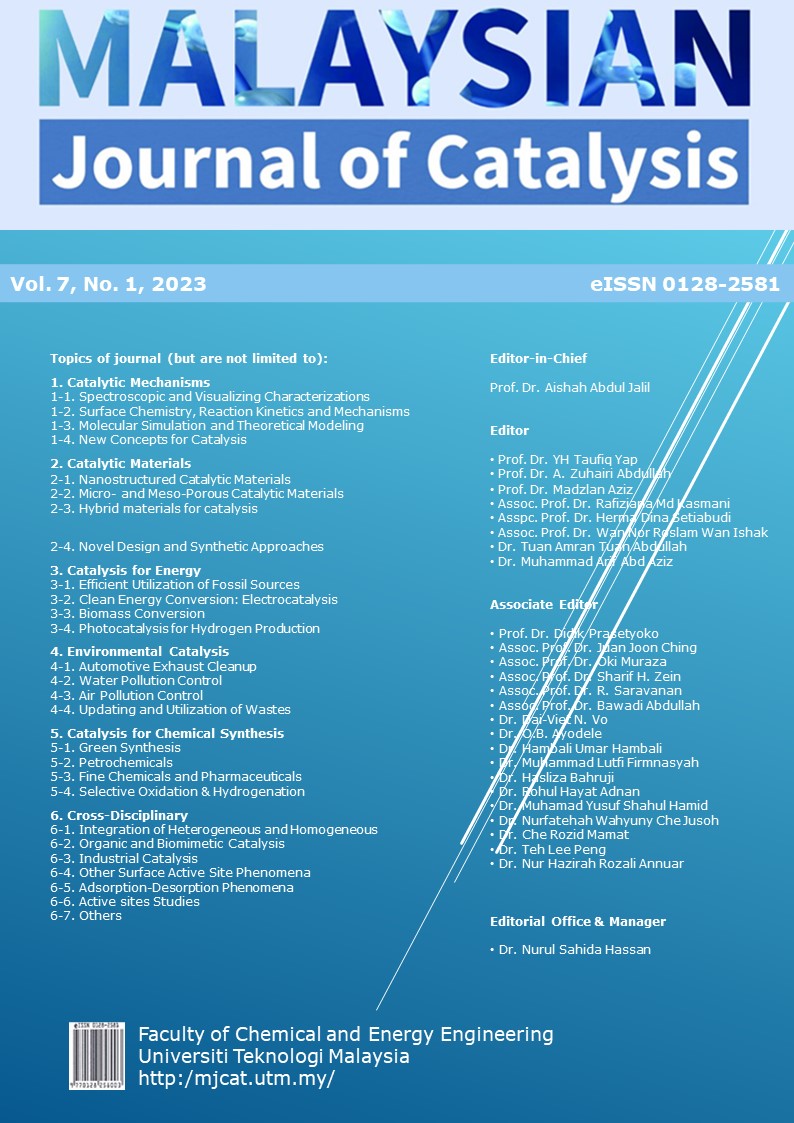 Downloads
How to Cite
Athirah, A., Othman, N., & Mohd Jaafar, M. N. (2023). Production of Biokerosene Hydrocarbons using Coconut Oil with CoO-NiO/Kaolin Catalyst via Solvent-free and Inert Atmosphere Catalytic Deoxygenation. Malaysian Journal of Catalysis, 7(1), 1–5. https://doi.org/10.11113/mjcat.v7n1.166
License
This work is licensed under a Creative Commons Attribution-NonCommercial 4.0 International License.
The Malaysian Journal of Catalysis publishes open access articles under the terms of the Creative Commons Attribution (CC BY) License which permits use, distribution and reproduction in any medium, provided the original work is properly cited. 
The Department of Chemistry, Faculty of Science, UTM retains the Copyright on any research article published by Malaysian Journal of Catalysis.
Authors grant Malaysian Journal of Catalysis a license to publish the article and identify itself as the original publisher.