Biodiesel Synthesis Via Transesterification Reaction Using Chemically- Based Heterogenous Catalysts Under Microwave Irradiation
Keywords:
transesterification, free fatty acid, microwaves, heterogenous, impregnation.
Abstract
This review paper has reviewed, albeit not thoroughly, biodiesel synthesis via transesterification reaction of non- edible and waste oils using chemically- based heterogenous catalysts induced by microwave irradiation. Synthesis of biodiesel from such feedstock oils can help boost biodiesel commercialization since it is an economical alternative to fresh edible oils in order to reduce the cost of raw materials. Another cost cut- off might arise from the use of heterogenous catalysts with microwave heating which consumes less energy and requires a shorter transesterification reaction time with a better reaction kinetics without compromising the overall biodiesel yield, in comparison to conventional heating. Results of the reviewed work have indicated that microwave heating could outperform conventional heating in all aspects considered, although reaction conditions are moderated in the former mode of heating. Also, it has been observed that acceleration of a transesterification reaction by microwave heating cannot be compared to that under conventional heating under; otherwise, identical reaction conditions. In addition, microwave- assisted heterogeneously- catalyzed transesterification reactions are featured with the generation of hot- spot zones, superheating and selective species heating. Out of these phenomena, the efficiency of heating process is increased; thus, rate of transesterification reaction is accordingly increased while production of by- products is decreased. The performance of heterogenous catalysts in catalyzing transesterification reactions, with their high reactivity, stability and selectivity under the influence of microwaves, has been superb.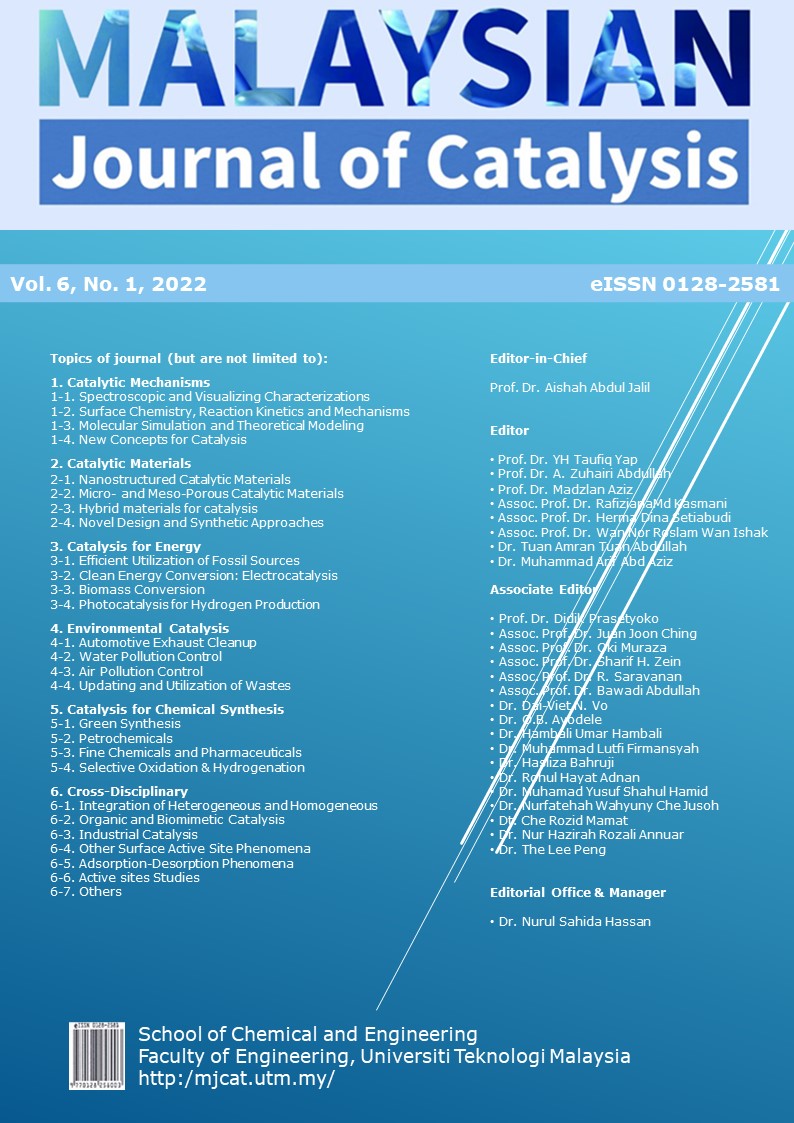 Downloads
How to Cite
Abdelmalik, & Elham. (2022). Biodiesel Synthesis Via Transesterification Reaction Using Chemically- Based Heterogenous Catalysts Under Microwave Irradiation. Malaysian Journal of Catalysis, 6(1), 12–19. Retrieved from https://mjcat.utm.my/index.php/MalJCat/article/view/162
License
This work is licensed under a Creative Commons Attribution-NonCommercial 4.0 International License.
The Malaysian Journal of Catalysis publishes open access articles under the terms of the Creative Commons Attribution (CC BY) License which permits use, distribution and reproduction in any medium, provided the original work is properly cited. 
The Department of Chemistry, Faculty of Science, UTM retains the Copyright on any research article published by Malaysian Journal of Catalysis.
Authors grant Malaysian Journal of Catalysis a license to publish the article and identify itself as the original publisher.