CuFe2O4 as a heterogeneous Fenton catalyst for the removal of ciprofloxacin from aqueous solution at natural pH
Abstract
In the present study, a bimetallic oxide catalyst of CuFe2O4 was synthesized via facile co-precipitation process and characterized using various techniques such as X-ray diffraction (XRD), Fourier transform infrared spectroscopy (FTIR), field emission scanning electron microscope (FESEM), energy dispersive X-ray (EDX), N2 adsorption – desorption analysis and UV-visible spectroscopy. Subsequently, it was used to degrade ciprofloxacin, a fluoroquinolone antibiotic, from an aqueous solution under various conditions. The effect of various operational parameters such as catalyst loading, H2O2 volume, initial ciprofloxacin concentration, inorganic ions, and solar irradiation has also been evaluated. The removal process was found to follow the trend: photo-Fenton > Fenton > catalytic > adsorption > photolysis. Finally, the results showed that CuFe2O4 catalyst degraded a high percentage of ciprofloxacin and maintained reasonable efficiency even after five cycles. Thus, CuFe2O4 is a promising catalyst for the activation of H2O2 to degrade ciprofloxacin antibiotics.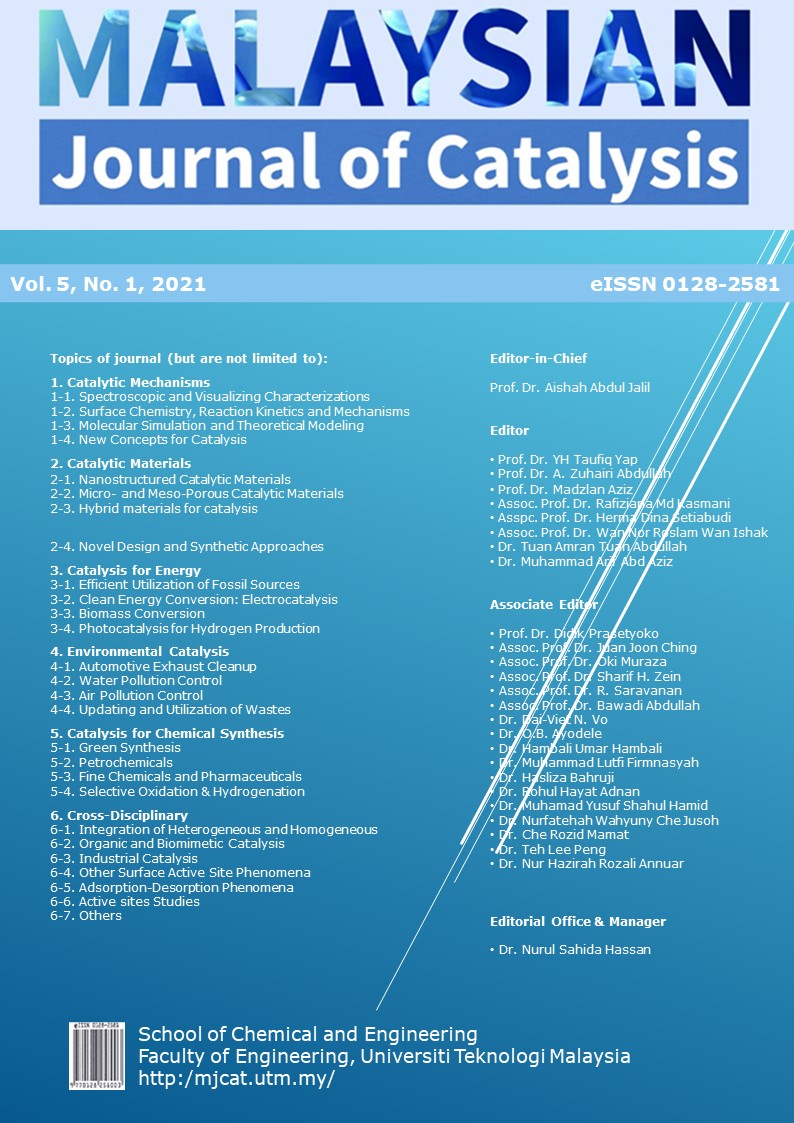 Downloads
How to Cite
Adnan, R., Shehu Imam, S., Mohamad Jani, N. N. ., & Dhahawi Ahmad, A. R. (2021). CuFe2O4 as a heterogeneous Fenton catalyst for the removal of ciprofloxacin from aqueous solution at natural pH. Malaysian Journal of Catalysis, 5(1). Retrieved from https://mjcat.utm.my/index.php/MalJCat/article/view/159
License
This work is licensed under a Creative Commons Attribution-NonCommercial 4.0 International License.
The Malaysian Journal of Catalysis publishes open access articles under the terms of the Creative Commons Attribution (CC BY) License which permits use, distribution and reproduction in any medium, provided the original work is properly cited. 
The Department of Chemistry, Faculty of Science, UTM retains the Copyright on any research article published by Malaysian Journal of Catalysis.
Authors grant Malaysian Journal of Catalysis a license to publish the article and identify itself as the original publisher.