Microwave-Assisted in the Preparation of Nitrogen-Doped TiO2 for the Removal of Organic Dyes: Effect of pH and Catalyst Loading
Abstract
The unmodified TiO2  was modified using a microwave technique to produce a visible light active nitrogen (N) doped TiO2. The modified photocatalyst was prepared by mechanical mixing of unmodified TiO2 with various amount of urea. It was observed that the N doped TiO2 at 800 Watt of microwave power irradiation at 3:7 (urea: TiO2) ratios were defined as the optimum condition for modified photocatalyst.  N doped TiO2 then was characterized using X-ray photoelectron spectroscopy (XPS), photoluminescence (PL) and UV-Vis diffuse reflectance spectra (UV-Vis/DRS) analyses. The XPS and PL proved the successful nitrogen doped into the TiO2. XPS present of two peaks with binding energy 404.8 and 400.2 eV that indicates the formation of chemical interaction N with titania forming N doped TiO2. In addition, UV-Vis/DRS confirmed the doped of TiO2 by decreasing the bandgap energy value from 3.02 eV to 2.9 eV. The photocatalytic activity study of N doped TiO2 were carried out by irradiating 25 mL of 30, 10 and 5 mg L-1 of anionic Reactive Red 4 (RR4), cationic Methyl Violet (MV) and cationic Janus Green dyes (JG) in the presence of normal and visible light with the rate of decolourization was estimated from aliquot concentration spectrophotometrically.The irradiation of N doped TiO2 was conducted using two parameters namely effect of loading and the effect of pH. It can be observed that 0.03g of catalyst loading gives optimum photocatalytic degradation for both anionic and cationic dyes. Effect of pH was conducted based on the optimum loading and conclude that pH 4 and 8 was the optimum pH for anionic and cationic dyes respectively.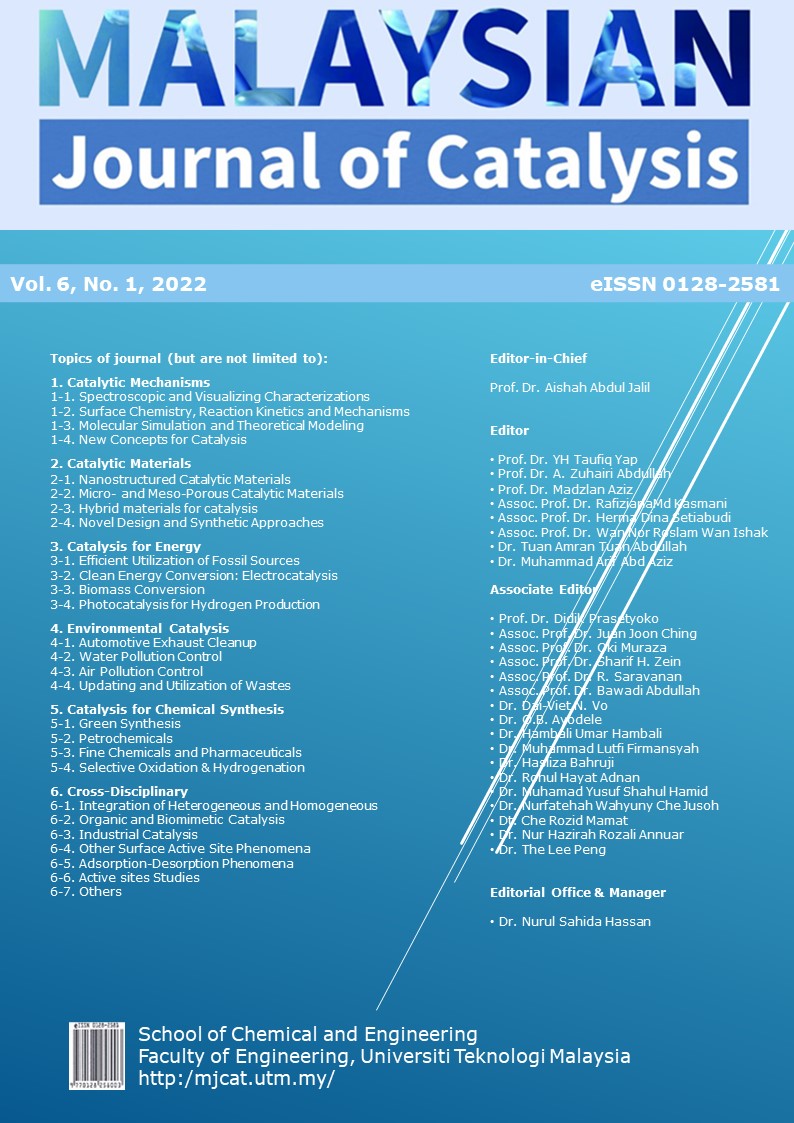 Downloads
How to Cite
azami, m.s., Tan, K. ., Jamaluddin, N. ., Izzudin, N. ., & Azmi, A. . (2022). Microwave-Assisted in the Preparation of Nitrogen-Doped TiO2 for the Removal of Organic Dyes: Effect of pH and Catalyst Loading. Malaysian Journal of Catalysis, 6(1), 20–24. Retrieved from https://mjcat.utm.my/index.php/MalJCat/article/view/156
License
This work is licensed under a Creative Commons Attribution-NonCommercial 4.0 International License.
The Malaysian Journal of Catalysis publishes open access articles under the terms of the Creative Commons Attribution (CC BY) License which permits use, distribution and reproduction in any medium, provided the original work is properly cited. 
The Department of Chemistry, Faculty of Science, UTM retains the Copyright on any research article published by Malaysian Journal of Catalysis.
Authors grant Malaysian Journal of Catalysis a license to publish the article and identify itself as the original publisher.